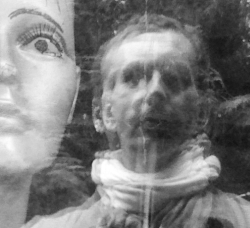 Petr Ulrych studied photography at Charles University, Prague, the Faculty of Journalism, Department of Television and Film Works. After graduation he worked as a journalist and photographer. Then, after a long time-out, he created the core of his photographic artwork between 2005 and 2011. In 2012 he considered his work fulfilled, complete and closed.
Petr Ulrych exhibited both at home and abroad. His work includes in private collections in the Czech Republic, Germany, Holland, France and in the USA. As a pedagogue he functioned in the National Museum of Photography of Czech Republic, he also conducted workshops for the Leica Gallery Prague.
Most of Petr Ulrych's photographs were issued in two limited editions: the edition of A1 format /60 by 90 centimeters/ limited by 5 artist´s archive prints, and the edition of A2 format /40 by 60 centimeters/ limited by 10 artist´s archive prints. The prices rise as an edition is being sold out. Every photograph is numbered, dated and signed on reverse side.
The closed photographic work of Petr Ulrych is represented by the Leica Gallery Prague.